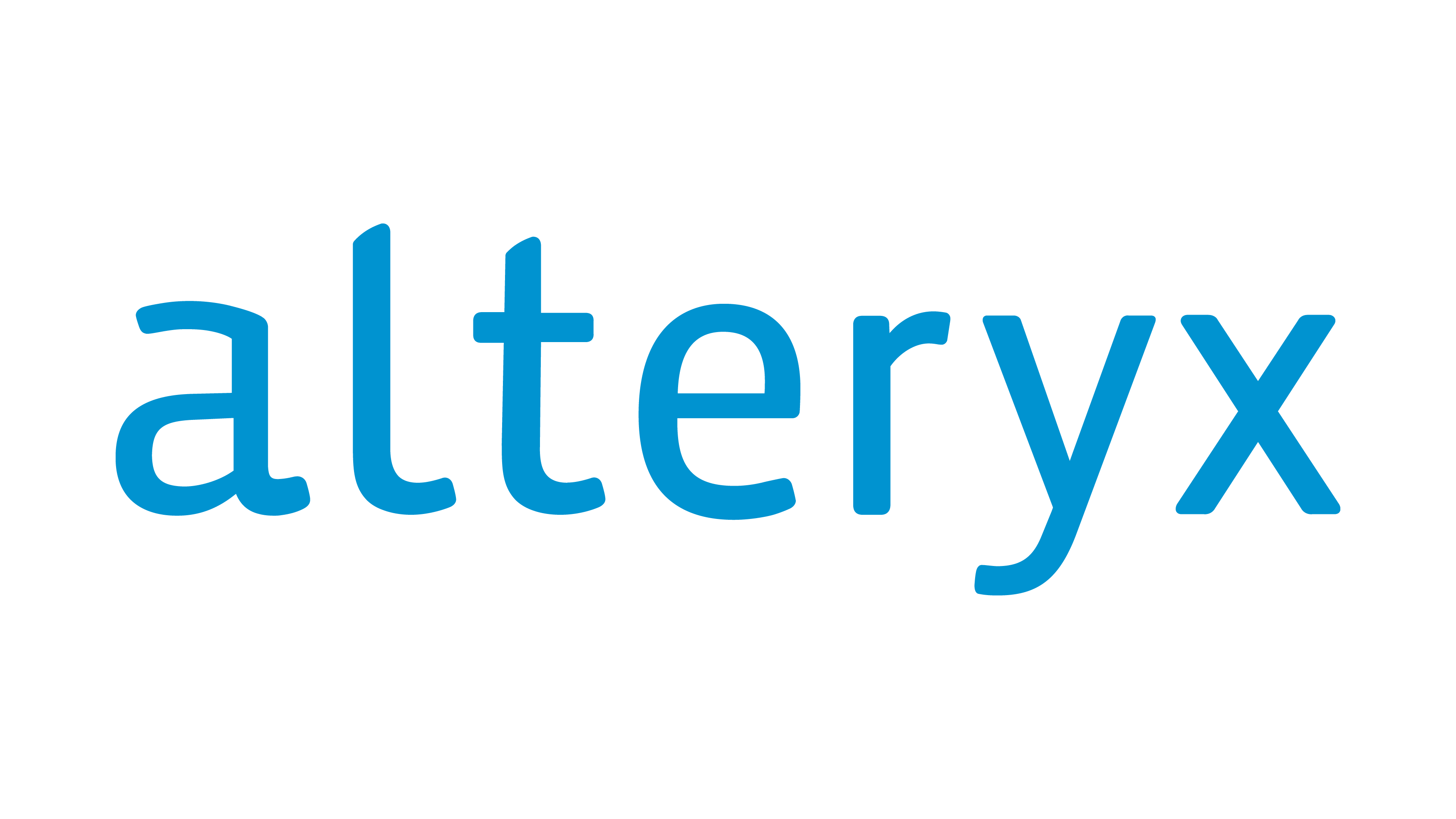 1-5-2021
Lede
As of today, 1-5-2021, we are dropping Spotlight Top Pick Alteryx due to a stunning lack of judgement and poor governance, in our opinion.
We added AYX to Top Picks on 15-Jan-19 for $65.
Today we drop it for the prevailing open market price of $113.03, up 74% in two-years.
Story
We noted in the most recent (prior) Alteryx dossier that a new CEO meant a new direction.
But, that CEO was the CEO of another prior Top Pick Palo Alto Network (PANW).
We noted then that we dropped PANW due to governance issues and, while we sit here incredulous, a governance issue happened again, just weeks after the new CEO was announced, this time as the leader of Alteryx.
On 1-4-2021 Alteryx released this presser: Alteryx Appoints Dean Darwin as Chief Revenue Officer.
The title seems harmless enough, if not bullish. We like to see new CEOs bring in power for sales.
Here is a snapshot of the first half of the press release: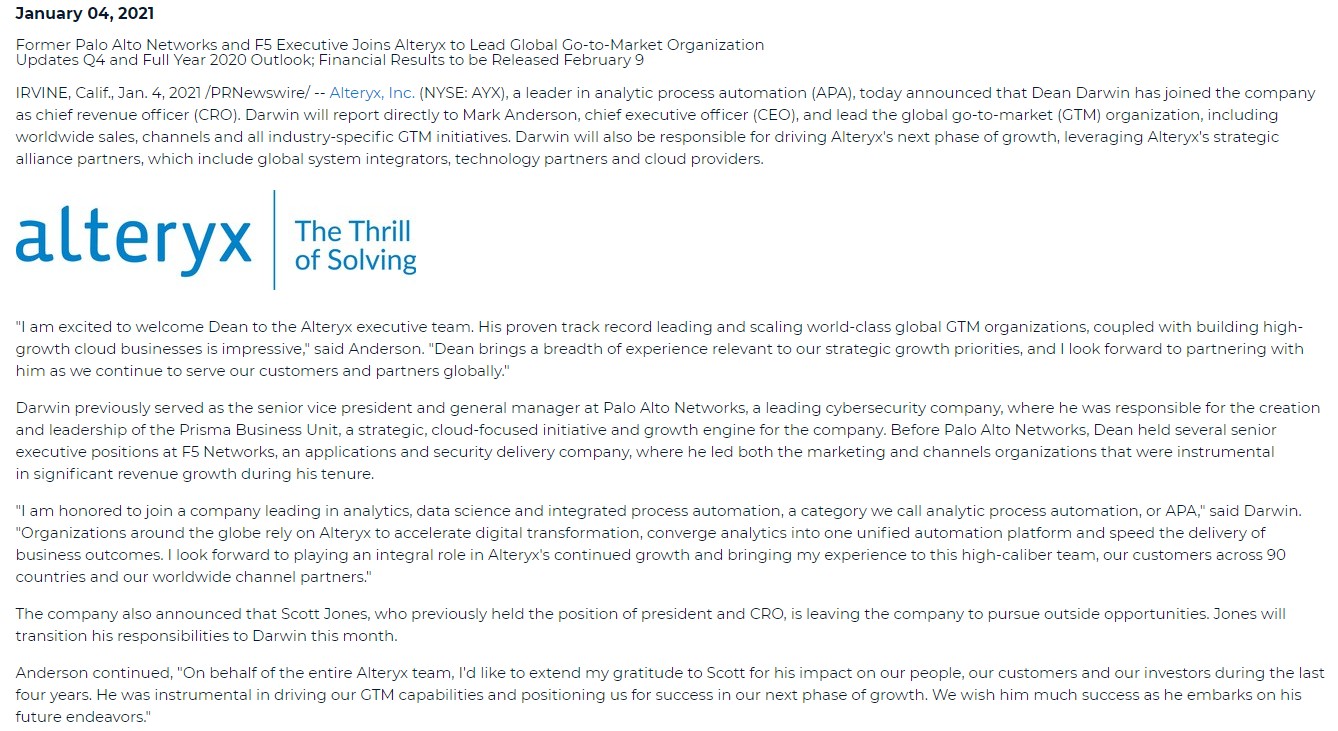 Again, it seems harmless enough as the new CEO brings in another former Palo Alto Networks executive.
But then the shameful next half:

The company pre-announced fourth quarter results and full 2020 results.
We have no issue with the numbers provided, they were rather in line, with a slight miss for full year revenue.
The issue we take is with burying the pre-announcement in a press release.
This feels like the same dog doing the same tricks. It just does.
Palo Networks, while closed as winner for CML Pro of over 40%, proved to be a company plagued by lack of transparency.
It appears that mode of operation now lives inside Alteryx.
While we had a strong bullish thesis for Alteryx, we don't deal with bad governance.
We usually give companies two strikes — which is to say, a slip up here and there is permissible, but a pattern of behavior is not.
While this is the first time we have seen such action from Alteryx, we cannot ignore the personnel and the company they worked for in the past and that company's predilection for opacity.
It is with regret that we drop Alteryx for an issue outside of business performance, but nonetheless, it is a decision we make without hesitation.
Conclusion
Today we drop Alteryx (AYX) from Top Picks and we will not look back.
The stock could very much rise — it has a wonderful product with excellent market fit, as long as it can get modernize its software for the cloud.
But there are far too many opportunities to worry about governance, so we will not.
Thanks for reading, friends.
The author is long Alteryx at the time of this writing.
The author will divest his holdings within 72 hours.
Please read the legal disclaimers below and as always, remember, we are not making a recommendation or soliciting a sale or purchase of any security ever. We are not licensed to do so, and we wouldn't do it even if we were. We're sharing my opinions, and provide you the power to be knowledgeable to make your own decisions.
Legal
The information contained on this site is provided for general informational purposes, as a convenience to the readers. The materials are not a substitute for obtaining professional advice from a qualified person, firm or corporation. Consult the appropriate professional advisor for more complete and current information. Capital Market Laboratories ("The Company") does not engage in rendering any legal or professional services by placing these general informational materials on this website.
The Company specifically disclaims any liability, whether based in contract, tort, strict liability or otherwise, for any direct, indirect, incidental, consequential, or special damages arising out of or in any way connected with access to or use of the site, even if we have been advised of the possibility of such damages, including liability in connection with mistakes or omissions in, or delays in transmission of, information to or from the user, interruptions in telecommunications connections to the site or viruses.
The Company makes no representations or warranties about the accuracy or completeness of the information contained on this website. Any links provided to other server sites are offered as a matter of convenience and in no way are meant to imply that The Company endorses, sponsors, promotes or is affiliated with the owners of or participants in those sites, or endorse any information contained on those sites, unless expressly stated.