Our Methodology Has Beat the S&P 500 by 400%+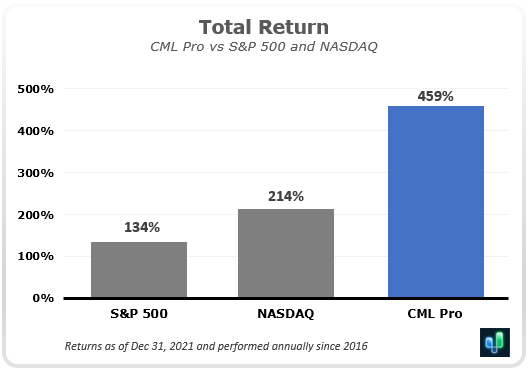 CML Pro's Top Picks portfolio has outperformed the market for over half a decade* with an unwavering investing philosophy.
We believe the best path for finding investment opportunities is to:
(1) Identify upcoming trends, long before reaching market saturation
(2) Understand the "why" behind trends, focusing on what is undervalued by the average investor;
(3) Invest in underappreciated stocks with a goal of a 3-5 years turnaround;
That's where we find our edge. That's where you profit.
Stock prices can (and do) fluctuate, but the best strategy we know for building long-term wealth is to hold quality companies that address underappreciated thematics.
*As of December 31, 2021, double third-party verification. Verification performed by award winning audit firm Krost CPAs and performance analysis provided by HC Global Fund Services.